We provide a universal disinfectant which can be used with total confidence throughout the entire animal health industry.
The formulation with already proven efficacy is suitable for all farm animals as well as every domestic pet, kennels and catteries etc.
The residual activity of our products is essential in eliminating the spread of most forms or viral and bacterial diseases.
Our recommended product 'ANI-FECT+'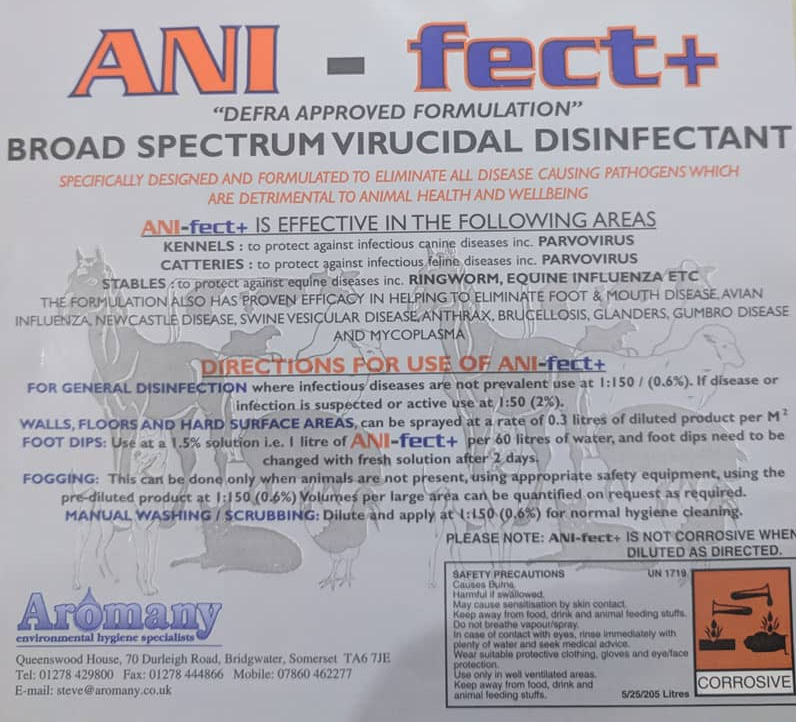 A very user-friendly formulation providing both pet and animal lovers/owners with the ideal medium for optimum hygienic surroundings and performance enhancing conditions.
With its wide range of approvals and independent tests, ANI-FECT+ is an ideal terminal disinfectant for Animal Housing.
This product can be used as part of a hygiene programme in:
Poultry Farming– breeder farms, laying farms, broiler production and hatcheries.
Pig Farming – breeding units, farrowing pens and fattening units.
Cattle Farming- to protect against anthrax etc.
Kennels – to protect against Parvovirus and canine diseases.
Catteries – to protect against Parvovirus and feline diseases.
Veterinary Clinics – as a surface disinfectant