Aromany are proud to be members of P.S.E. – Portable Sanitation Europe Ltd.
As members, all customers can be assured that our products and service to this industry conform to the highest standards laid down via the Environmental Protection and Health and Safety legislation.
Aromany are suppliers of a comprehensive range of chemical toilet reodourisers and waste additives for the portable toilet industry which also includes the caravan, boating, aircraft and shipping industries where portable toilet sanitation is an inbuilt and necessary facility.
Our products are user-friendly and we offer both Eco- friendly formulations based on non-formaldehyde as well as more traditional formulations.
Also for this industry, we supply ancillary products which are pertinent for this very unique environment:
Perfumed flushing sanitizers.
Bactericidal hand lotions and rapid drying hand sanitizers.
Paper products specifically designed for rapid and biological break down which avoid blockages.
Exterior cleaning chemicals and deodorisers and janitorial paper products.
All of our products are eco-friendly and are specifically designed for rapid biological break-down and are based on formulations well accepted by all water authorities.
Our extensive and very sophisticated supply base enable us to supply any specific formulation the marketplace requires and in any quantity or package sizings.
As bespoke suppliers, we aim to offer the most competitive prices and welcome the challenge of any enquiry.
Our proven stock range covers all needs, and we can offer customer specific branding if required
Sanitation Products for the Portable Toilet Industry
'PORTA-KLENZE'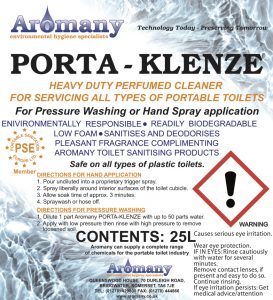 A concentrated bactericidal exterior cleaner which when used via any pressure-washer system, readily removes all types of soiling without dulling or damaging the cabin construction. The added fragrance enhances the cleaning and the units are rendered ready for immediate re-hire.
Cleaning and Janitorial Extras
Aromany can also supply a full range of cleaning an ancillary products which you currently have to purchase, and we would be delighted to quote you, if you so require. These products are again all manufactures to the highest standards and samples can be supplied upon request. These items include:
Portable Toilet Cleaners and Traffic Film Removers
These high active cleaners can be supplied with or without a bacterial germ killing agent and perfumed additive. Designed to remove all traces of soiling safely and effectively from all types of G.R.P. Toilet housing and tanks etc.
Liquid Hand Soaps
Aromany can supply cartridge systems to suit every individual requirement or more economical systems whereby you can dispense from 5-litre containers. Soaps are available with or without perfumes, in cases 4 x 5 litres of each. Also 'Bag in Box' systems are available.
Paper Products
Toilet papers are a main consideration and we can supply the full range to include as follows:
Jumbo or Mini Jumbo Toilet Rolls
C-Fold Towels
Centre Feed Rolls
Quality Assurance – All products which do not arrive in perfect condition can be returned at our cost, and a full refund or replacement will be made without question.